The August 2021 Journal of Food Protection featured a research article from CAT Squared Implementation Specialist Sheridan Brewer.

Brewer was part of a research team from the University of Georgia that investigated the viability of foodborne pathogens and changing microbial community dynamics in the popular fermented beverage, kombucha. Results were collected using four different home kombucha-brewing kits over at least two 14-day trials of fermentation period for each kit brand. The different microbiota groups, including Lactobacillus spp., which are often recognized as the probiotic cultures in kombucha, surmounted a large population by the third day of fermentation and stabilized after that. The foodborne pathogens studied – Salmonella spp. and Escherichia coli – were, surprisingly, able to survive in small numbers ( < 10 -100 CFUs/mL) to the end of a 14-day fermentation period in some kits. However, on average, both pathogens demonstrated a 5-log reduction or greater in population numbers by day 10 of the fermentation period. A 5-log reduction (death of 100,000+ cells/mL) of pathogens is the same standard applied to juice products in HACCP guidance from the U.S. FDA, which could be considered a reasonable standard to apply to this same raw, unpasteurized product.

Overall, researchers determined the indigenous microbiota ("probiotics") in the beverage did not play a strong role in influencing the survival of any pathogens, but instead, survival was strongly influenced by changes in pH (increase in acidity). The type of base tea used to brew kombucha did play a significant role in the survival of pathogens; kombucha brewed from an oolong/black tea mix demonstrated the most rapid reduction in pathogens as opposed to kombucha brewed with green tea. Lastly, strict hygienic practices were recommended for the preparation of the fermented beverage because the combination of sugar content, water activity level, and gradual change in pH in kombucha fermentation were able to provide a perfect storm for the development and survival of some acid-resistant pathogens.

"CAT Squared wants to congratulate Sheridan on his great accomplishment," said CAT Squared CEO Vernon Smith. "We're proud to have such a driven, talented mind on our team."
Connect with Sheridan: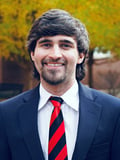 Sheridan Brewer
CAT Squared Implementation Specialist
Meet Sheridan